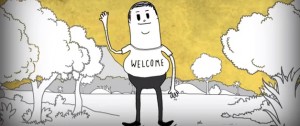 Steve Cutts, el creador de este rudo material animado con la técnica Flash y After Effects, no trepida ni escatima en mostrar al hombre como un ser indolente con el entorno e incapaz de generar una relación sana con la naturaleza.
La sobreexplotación de los recursos naturales como piedra angular de una catástrofe majaderamente anunciada y completamente evitable, se despliega en un poco más de tres minutos y medio, musicalizada con el clásico In the Hall of the Mountain King de Edvard Grieg.
Music: In the Hall of the Mountain King by Edvard Grieg.
facebook.com/SteveCuttsArt
twitter.com/#!/Steve_Cutts
www.stevecutts.com
Per tal de vore el documental, punxa en aquest enllaç a youtube.