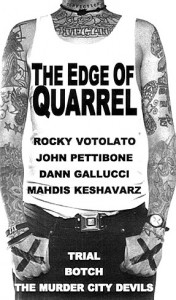 Película independiente del año 1999, realizada por david larson. La película nos muestra la historia de Brian, un Straight Edge que regresa a su ciudad para descubrir que en ella hay una guerra entre los punks y los Straight Edges, donde se encuentran involucrados antiguos amigos en ambos bandos. Es una autocrítica de la escena hardcore en Boston.
Reparto:
Rocky Votolato de Waxwing como Brian Johansen
Juan Pettibone de Undertow como Jason Talbott
Dann Gallucci de The Murder City Devils tantas posibilidades Linstrom
Con otros miembros de sus bandas y mucha más gente de la escena Punk y Hardcore noroeste.
Trial, Botch, y The Murder City Devils también aparecen tocando en vivo.
Pots vore la pel·lícula en aquest enllaça de youtube.